Heart Warming Blog Hop
Saturday, February 16, 2013
Welcome to the "Heart Warming" Blog Hop!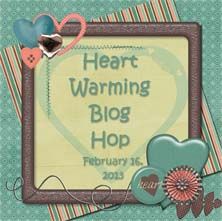 We're so happy you could join us today!
I had soooo much fun with this blog hop...I had this big huge Valentine's breakfast for my 5 youngest grandchildren and of course wanted everything to look festive. So I have a warning this post is going to be very photo heavy! Every single one of my photos do not fit the requirement of the "heart" blog hop...but I wanted to show you all of the decorations. I am so sorry that I did not get a whole room shot.
I used the paper Lucky in Love by My Mind's Eye! Love it!!
Prima flower jars with conversation hearts with glitter heart picks and a few Cricut cuts to add to the mix.
These 2 hearts were cut from Paisley...I cut the Mama as large as she would go!
I got this cute decor from Hobby Lobby at 50% off cause it was damaged.
Where the picture of my hubby and I sits was the damaged part...so I added the little frame and the silver swirly. I just love the way it turned out.
Sorry this picture did not turn out well. I made a little conversation heart tree.
Another Hobby Lobby find...I altered it by adding some lace, pearls, and the lovely pink flower.
My banner hung across my hutch. I showed this in an earlier hop at the beginning of the month.
A Pinterest inspired project. I used cupcake liners to create this topiary.

Hope some of these projects have inspired your "heart" to get going and craft something.
Here is the line up for today: